Jerry Weinberg Testing Excellence Award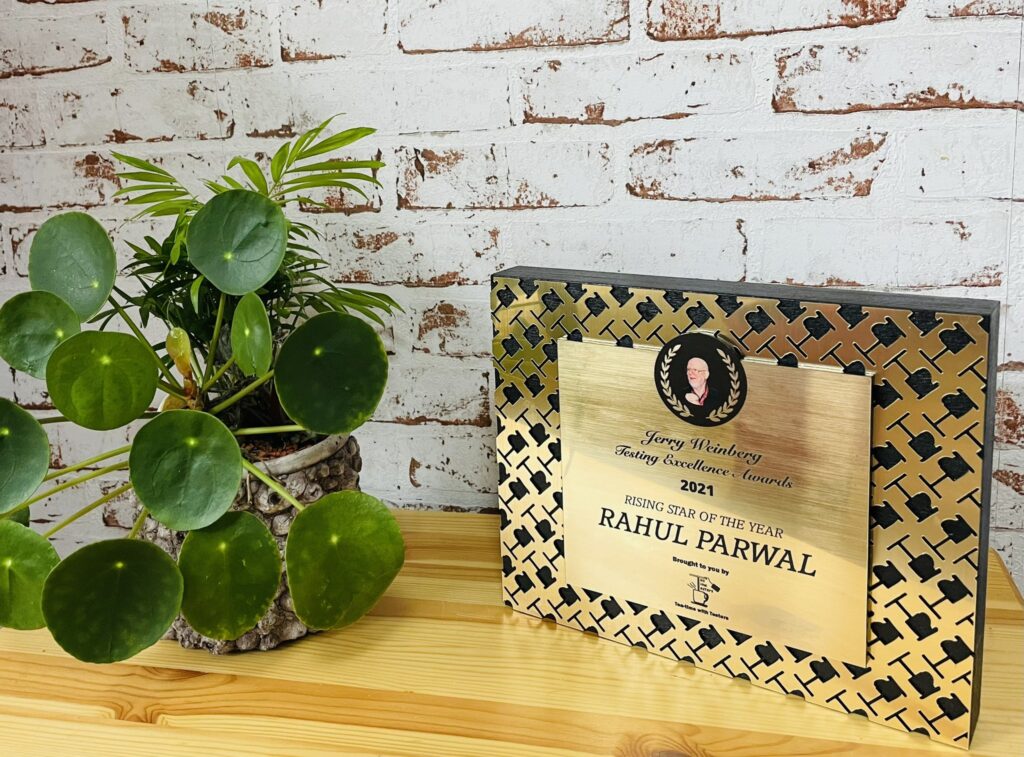 Jerry Weinberg Testing Excellence Awards are yearly awards introduced by the largest circulating software testing journal, Tea Time with Testers. The main purpose of this award is to celebrate excellence in testing. If you are interested in knowing the background of this award, Click here to know more.
Who is Jerry Weinberg? Jerry Weinberg (27 Oct 1933 – 07 August 2018) was a well-known Scientist, Psychologist, & Anthropologist of Software Development. He contributed to developing and testing software for over 50 years and was one of the engineers who worked on the first American NASA space program (Project Mercury), where he designed and implemented the space tracking network focusing on the first multi-programmed operating systems.
Jerry was also a prolific author of 30+ books. Some of his popular books were: Secrets of Consulting, An Introduction to General Systems Thinking, Becoming a Technical Leader, Weinberg on Writing, Perfect Software and Other Illusions About Testing, Are your Lights on and many others.
In short, Jerry is the ultimate prince of software testing. You can know more about him through his fan website.
What is Tea Time with Testers?
Tea-time with Testers is the largest-circulated software testing periodical in the world. Ever since its inception in 2011, it has set one benchmark after another in testing publication circles. It was the first to do serious reporting on software testing theories and thoughts. And then again, it is the first to bring a whole new genre of technical/corporate journalism more up close and more incisive. It is the only monthly magazine in the global testing community known for the quality of its content, authors, and unique way of presenting the information. Today, Tea-time with Testers commands the highest circulation and readership among all English language testing magazines in the world. You can know more about them here and I highly recommend you to follow them. It's available FREE of cost.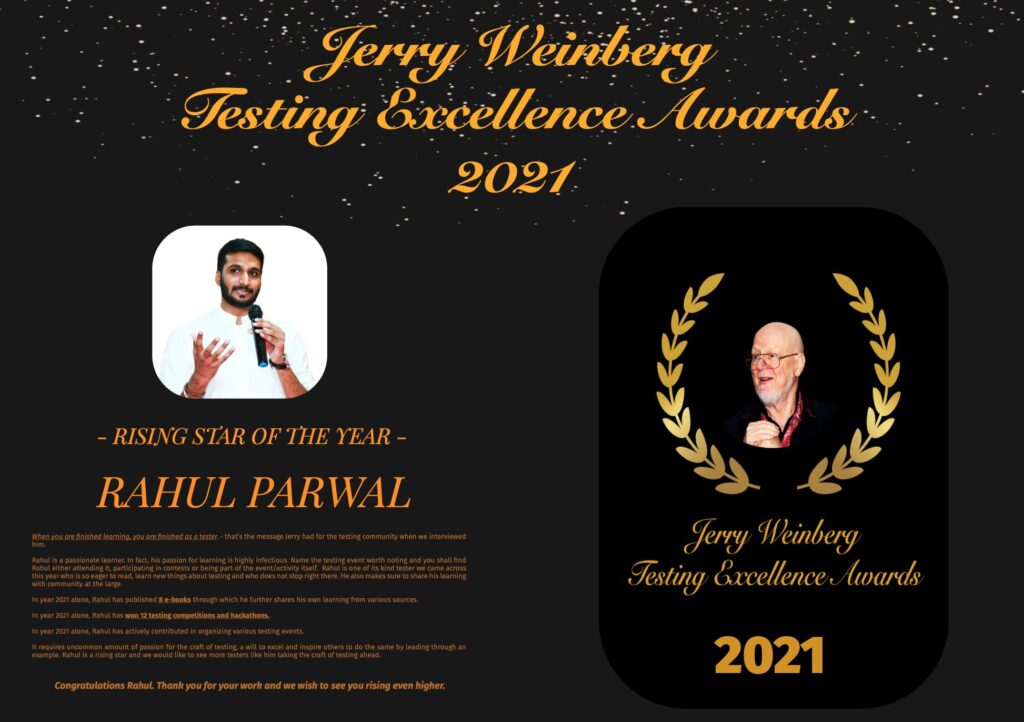 Award Citation: Rising Star - Rahul Parwal
When you are finished learning, you are finished as a tester. – that's the message Jerry had for the testing community when we interviewed him.
Rahul is a passionate learner. In fact, his passion for learning is highly infectious. Name the testing event worth noting and you shall find
Rahul either attending it, participating in contests or being part of the event/activity itself. Rahul is one of its kind tester we came across
this year who is so eager to read, learn new things about testing and who does not stop right there. He also makes sure to share his learning
with community at the large.
In year 2021 alone, Rahul has published 8 e-books through which he further shares his own learning from various sources.
In year 2021 alone, Rahul has won 12 testing competitions and hackathons.
In year 2021 alone, Rahul has actively contributed in organizing various testing events.
It requires uncommon amount of passion for the craft of testing, a will to excel and inspire others to do the same by leading through an
example.
Rahul is a rising star and we would like to see more testers like him taking the craft of testing ahead.
Life is kind 🙂 Never thought of a better ending to 2021 ❤️
It's an honor to receive an award associated with the name of the ultimate prince of software testing, Jerry Weinberg.

I have always got support from the communities and the amazing people we have here and a lot of credit goes to them.

I would like to thank my:

#Parents who taught me how to learn, and share 🙂

#Mentors: Ajay Balamurugadas James Bach Vijay More Kalpak Nikumbh for guidance, support, brainstorming, ideas, and direction 🙂

#Friends & Collaborators: Vinod Kumawat Apoorva R. Mahathee Dandibhotla Sandeep Garg Gaurav Khurana Anindita Rath Pooja Shah Sahithya Reddy Kadapakonda Harsh Tamrakar Gunjan Vora Jyoti Mishra for trusting me with new initiatives, collaborations, events, etc. And listening to all my crazy ideas 🙂

.#Organization & Leaders: ifm, Mangal Kakade(Bharate), Aniket Patil, Praveen kumar GAGANETI Shefali Pathak for all the support, motivation, and opportunities of learning & growth 🙂

#Communities & Community Leaders: The Test Tribe Community The Test Chat Community Agile Testing Alliance Synapse QA – Learn | Share | Grow Mahesh Chikane Brijesh Deb Aditya Garg NITHIN S.S for the enormous opportunities and initiatives that you all keep on bringing 🙂

Well, these were just some of the names I could quickly think of, and the actual list would be really really big! Thank you all 🙂