askui organized its first-ever hackathon on 24th September 2022. The theme of the challenge was #innovation. The hackathon challenge duration was 10 hours. I just completed the hackathon challenge 2 hours ago and thought to pen down my experience with the hackathon before I head back to my weekend.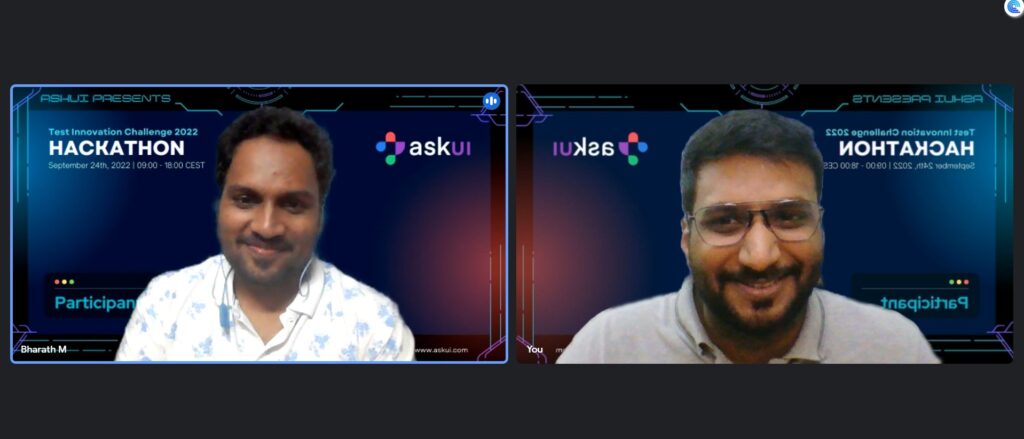 What was great?
The event was well managed. Everything was documented well in advance. askui Hackathon
The winning criteria were defined and shared well in advance.
The opening kickstart session with judges gave some excellent positive vibes along with tips to excel in this challenge.
The dev team / support was great! They were available throughout the 10 hours and provided prompt responses and suggestions for working around with typical issues and errors.
Availability of tools before the event to get familiar with basic tool APIs.
Prompt answers from the askui team on discord queries, and issues.
askui tool offers a totally different model of automation and I see great potential in this tool where most other tools will easily fail. It feels like an electric car in the age-old era of petrol cars.
Fab collaboration and great mutual understanding with my hackathon partner, Bharath Muddada.
What did I learn?
New tool: askui
Basic Scripting in a new language: Javascript / Typescript
Practical work with async / await methods
Creating & Editing a quick readme file for my test solution
Command Line tools & shortcuts for quick work.
Automation via an OCR-based tool
JEST Framework Basics & Writing a few tests using jest.
Live collaboration with an absolute new partner during the hackathon. Yes, I didn't know much about him before this challenge. Till now, I had only collaborated with known partners 🙂
Leveraging automation tools for easing day-to-day tasks beyond test execution.
What do I look forward to?
Exploring askui for some crazy automation scenarios. askui – Humanizing UI Automation
Exploring JS / TS & jest in the coming months.
Extending the tool that I developed as part of the askui hackathon. I see some potential in it 🙂 parwalrahul/Testistant-askuihackathon (github.com)
Results & Feedback from the judges 🙂
More such hackathons and participations. I feel super energetic whenever I participate in such events.
Bye! Signing off for today 🙂
Innovation distinguishes between a leader and a follower.

Steve Jobs
Update (13 Oct 2022): We won the first prize in this contest.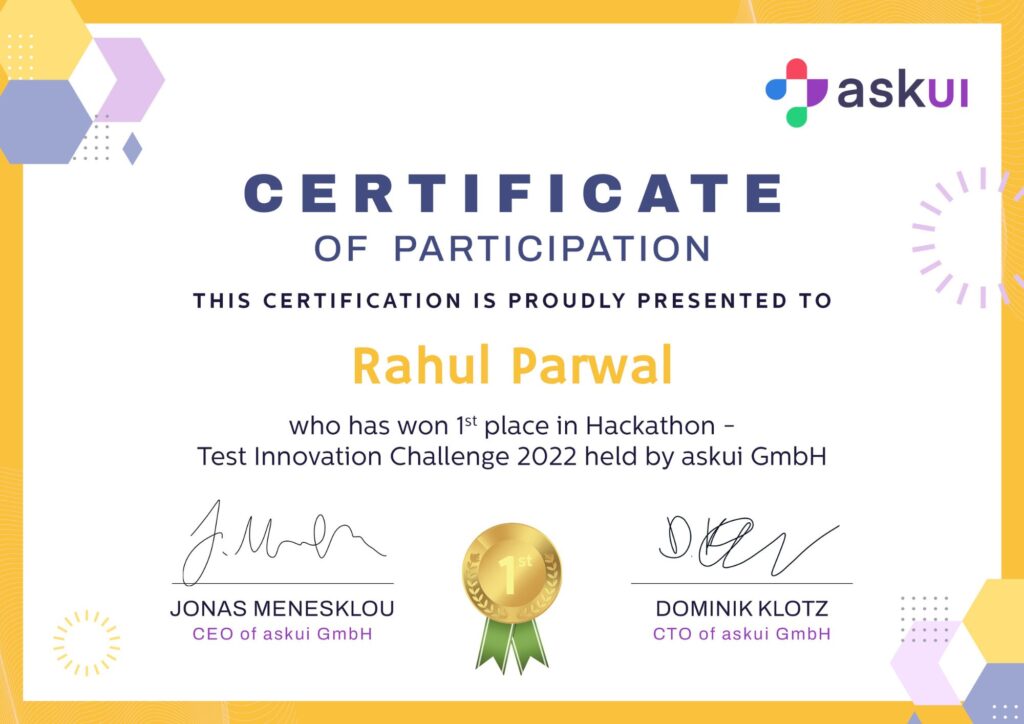 If you liked this article, you can check out this popular post from my blog hits: