Six months back, Synapse QA Community announced its first-ever reality contest in testing space on public speaking. When I first got to know about this contest, it fascinated me. I could instantly sense this announcement brought a new dimension to the testing contests that were happening till then. This was something new 🔥. Initially, I was not sure that should I participate in this or not. I was also considering my available free time before applying for this contest. In the end, I thought to give myself a chance. I had done some small engagements for public speaking in the past, but I am still striving constantly to improve myself as a speaker. Btw, did I tell you that I won the title winner for Super Voice 2022 😍💯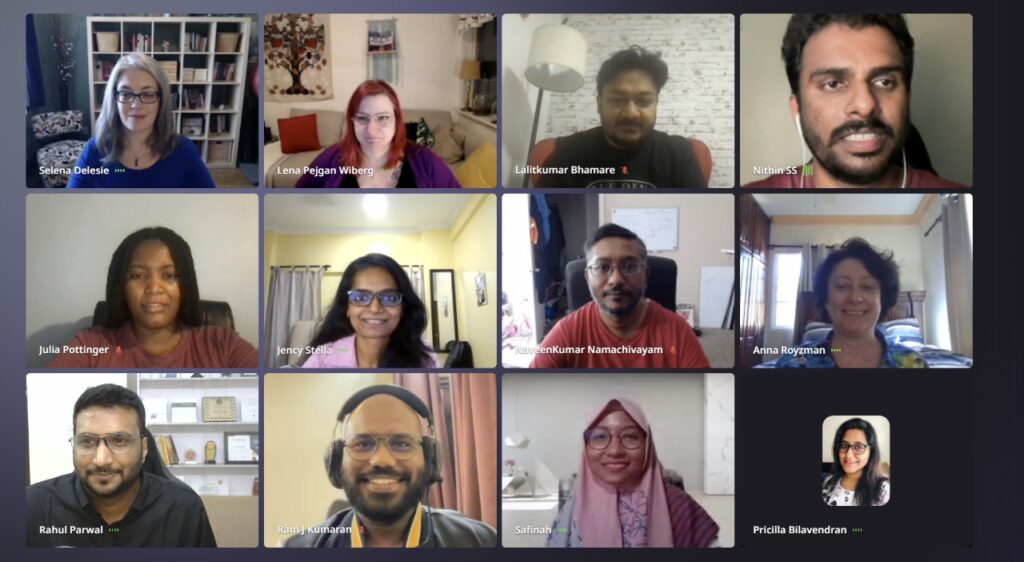 When I started, I saw this as an activity where I can improve and get better as a speaker. I also thought that maybe I'll get some feedback from the judges that can help me find my shortcomings and in that iterative process maybe some real improvement in me as a speaker can happen. It was an amazing journey when I look back at all the rounds that I have participated till now. It was fantastic ✌️🧡.
From the auditions to talking about the "Human side of Testing" and then my talk on "Clean coding" followed by "Quality Conscious Software Delivery" by Lalit Bhamare and then the finale's talk on "Re-Igniting Testing". I learned during this process.
I'm doing this blog to capture this experience and share it with everyone so that if you are thinking of upskilling yourself, you can probably learn from my experience.
What Went Great?
Overall this event was well coordinated.

Each participant got all the updates timely.

Synapse QA Founder Nithin was very approachable and was open to our suggestions and requests.
The shoutouts, announcements, encouragement on social media as well as 1-1 connect were really uplifting & motivating.

The video edits and creative posters were really FAB! (Someone once told me that these folks should try their hands at Hollywood video production).

The panel of judges and their feedback on our talks were really good. The Synapse QA team brought in some really inspiring leaders whom we all look up to.

The finale on Airmeet was really seamless, fun, and a great experience. I feel a lot of credit should go to the background team of Synapse. 🧡
There was a talk by Pricilla before the event started that gave a really good idea about how to break our mental barriers and speak freely. The slide templates (slides carnival, slidesgo), references, rehearsal coach (yoodli), etc. shared by her were really useful throughout the event and even in the future.
What Did I Learn?
In-depth understanding of a few topics:

Art of Command Line (For Auditions)
Clean Coding
QCSD by Lalit Bhamare
History of Software Testing
Business Value of Testing
Art of Storytelling

I also learned some great things from a few fellow participants, like:

How to remain calm amidst any unexpected chaos (Her video didn't play in the last round slides, and she handled it with a smile. I was like "WoW") – Chinmayee
Voice Modulation – Chinmayee
Playful & Joyous Presentation (I think all participants agree that his slides were a class apart). – Geosley
How to speak confidently about yourself – Mahathee

Making Balanced Presentations / Slides. You improve this with practice. I am still learning.
Doing excellent testing is one thing, showcasing it to others is a totally different ball game.
Importance of silence, pauses, voice modulation, and balance.
There were some great learnings from the judges' feedback too that I have documented in this mindmap: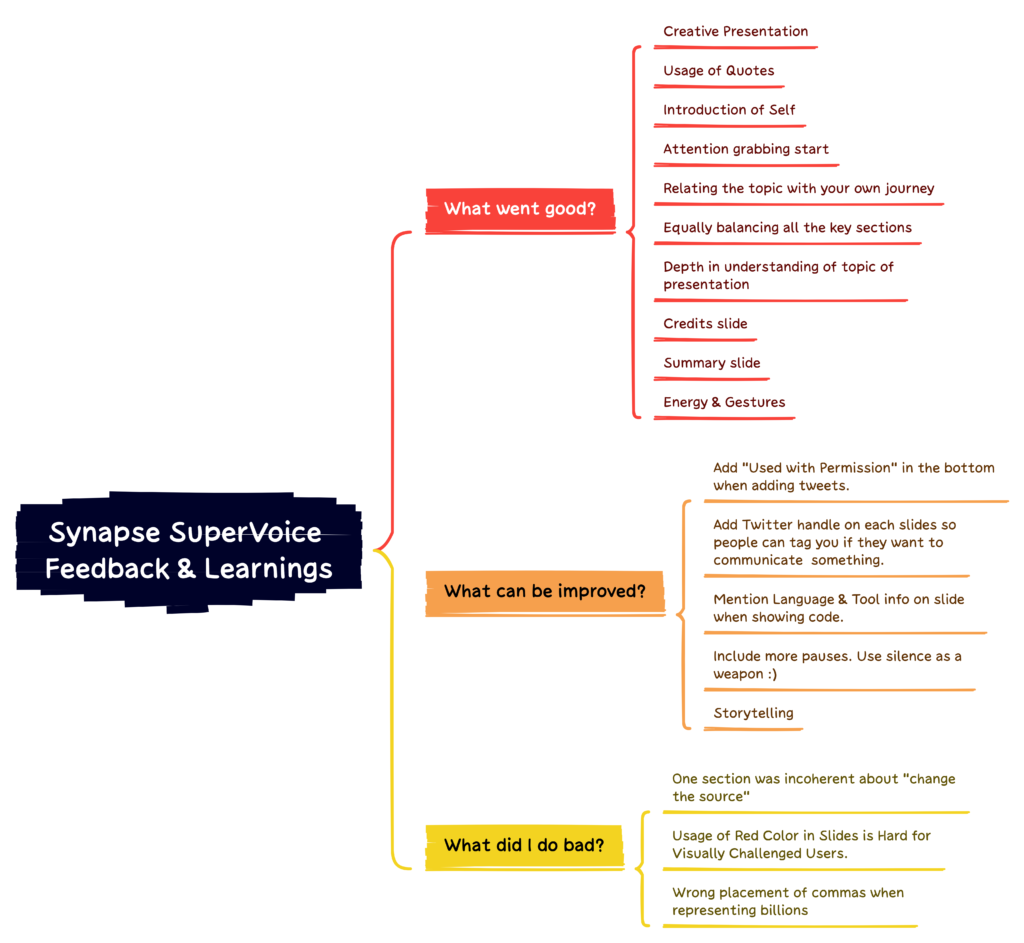 What Could Have Been Better?
Eliminations as planned initially would have really added some juice to the event. I felt that adrenaline rush in the finale. Somehow that was lost in the initial rounds. After all, it was a contest.
Completion of the event within the initially planned timeframe of 3 months. This contest went a little longer than initially planned. I had made some other commitments in the month of Nov and then had to trade some of them off.
What Do I Look Forward To?
More Practice & Improvements
Working more on storytelling
Creating some videos for my YT channel.
Giving more talks in meetups, conferences, and within my organization. It's time to share some valuable lessons 🙂
More collaboration with some of the amazing folks I met during this journey.
Helping more people to remove their hesitation about public speaking. I am certainly going to motivate a few folks to take part in Super Voice Next Edition.
Before I end, I would like to thank everyone who spent their valuable time reviewing my content, my slides, the title of my presentation, and even the way I'm narrating that presentation. I would especially like to thank Anindita Rath, Sowmya Sridharamurthy, Mahathee Dandibhotla, Kalpak Nikumbh, Vijay More, Shubodhaye H, Safinah, and my entire #ifmily. You folks are wonderful. You folks are amazing. And this journey would not have been possible without you folks.
Signing Off!
Rahul
If you liked this article, you can check out this popular post from my blog hits: